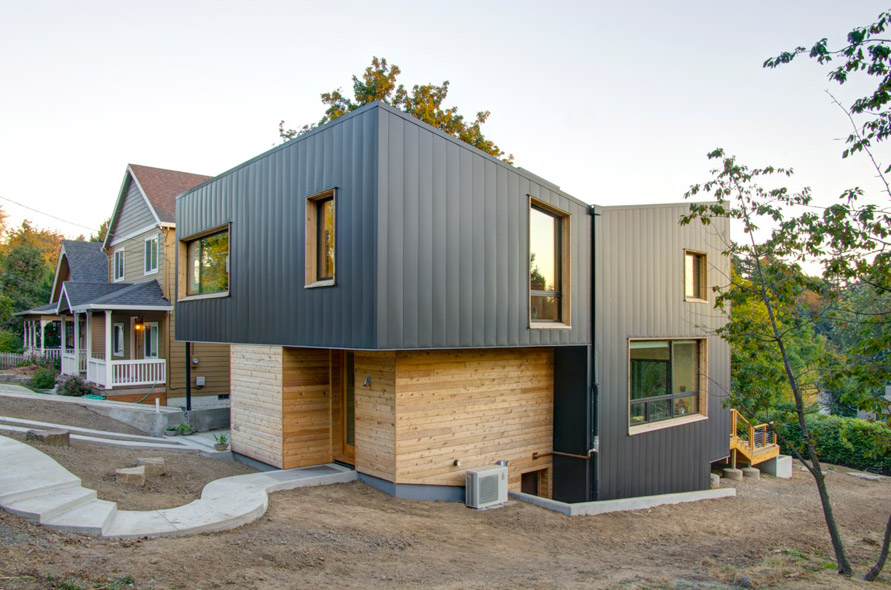 460 SW Primrose | Portland | 97219
Architecture – Departure: Architecture Planning Interiors LLC
Project Also Credited to: JRA Green Building
Built 2012, 3 bedroom, 2 bathroom, 1729 square feet
The Full Plane PassiveHouse gives modern form and presence to the owner's ecological and social values, while providing a playful environment for her son to grow and be educated in sustainable living.
The floorplan is a thoughtful re-evaluation of the functional needs for a small family, including an efficiently designed kitchen, 1.5 baths, and an open floor plan which encourages time together.
The recently completed home has quietly reached the ranks of Portland's most sustainable residences, pursuing both Passive House and the Living Building Challenge standards. To meet net-zero water goals, composting toilets, stormwater catchment, and greywater reuse are incorporated. PassiveHouse technologies and photovoltaics help the Full Plane PassiveHouse surpass net-zero energy requirements, moving towards net-positive energy.
Photography by Mitchell Snyder Photography