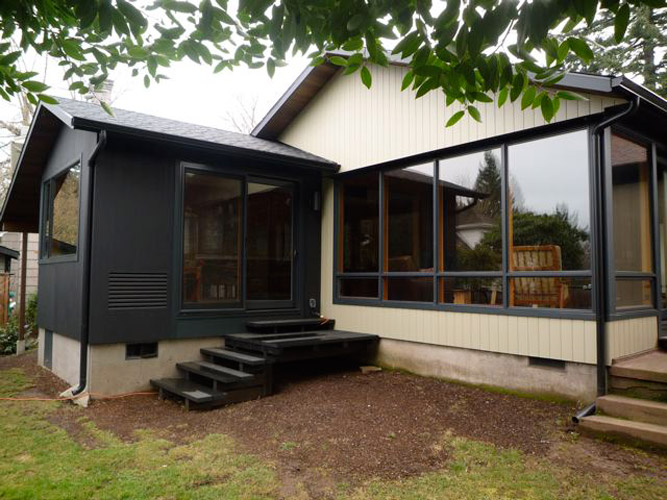 3827 SW Beaverton Ave. | Portland | 97239
Architecture: John Dukehart
Offered By: Greenline Fine Woodworking
Built – 1950; Renovated – 2012, 2 bedroom, 1.5 bathroom, 1,600 square feet
Patrick O'Neill and Jayne Cronlund O'Neill purchased the home, located in the Council Crest neighborhood of SW Portland, in 2004.  The house, originally designed by John Dukehart for his parents as a place to retire, was still in its original condition with no major remodels.  Both Patrick and Jayne saw a great potential restoration/renovation opportunity.
Patrick, founder of Greenline Fine Woodworking, developed potential restoration/renovation concepts over the next 8 years while living in the house. As part of the design development process, the O'Neill's commissioned, Japanese Garden master, Hoichi Kurisu, to design the gardens. With the garden plan complete (though not constructed), Patrick was able to fully design the interior renovations.
In 2011, the O'Neill family led by Patrick and the Greenline Fine Woodworking team undertook the restoration/re-imagination of this NW classic home.  Patrick's background in restoring several NW legacy homes by Pietro Belluschi & John Yeon (Papworth, Belluschi and Sutor Residences and Yeon's Watzek House) informed the aesthetic & material pallet.
Greenline's team of talented craftsmen and subcontractors executed every detail with precision. Cabinet construction, wall paneling, trim and furniture fabrication and installation all meet the highest standards.  Patrick's vision, with the hard work and support of his family and team, has transformed an original mid-century modern house into an outstanding example of northwest regional architecture.