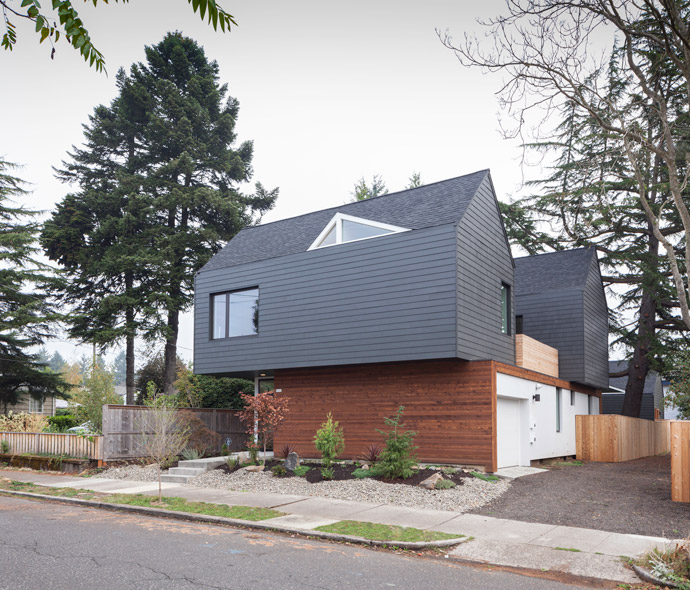 800 NE 53rd Ave. A | Portland | 97213
Architecture: Works Partnership Architecture
Built 2012, 3+ bedroom, 2.5 bathroom, 2400 square feet
We, as a profession, speak romantically about prefabrication and mass production as a way to bring thoughtful design to mainstream homebuyers. We hope for tight construction costs of $150/sf and "fast" schedules of 6 months. We are a little lost. The American mass housing industry's bottom line is closer to $60-75/sf and houses are completed in 40-75 days out in the converted farmland of exurbia.
Using the building blocks of the typical American house we asked not only what types of spaces they could contain, but what types of spaces could they create; a change not so much in architectural configuration, but a change in lifestyle.
We wanted to return to utilitarian simplicity and a model of living large in a smaller home. We had three basic principles in mind with the design of this house. They are: 1. everybody should have a tree – sweet fragrance, an idea of abundance, and a small token of a good life in one package; 2. houses should be about quiet, protected places – places that can be marked by the track of the sun and dimensioned with shadow; and 3. houses need to breathe – in this day and this climate, a house needs to embrace the out and make it part of the in. The courtyard plan we have borrowed is from a history much older and more profound than the faux craftsman details that pass for cultural continuity in these communities. This courtyard is the voice of the house and the spatial turn of the phrase in this experiment.
In this version of prototype A, the house adjusts its position to allow for an embrace from a large cedar tree and on the site and also situates an accessary dwelling unit at the rear of the lot born of the same concepts and materials.  The main house is a 3+ bedroom, 2.5 bath home with 2 levels.  The accessory unit is a 1 bedroom loft space with its own private yard.
We were asked to collaborate on a new model of house, a new American bungalow. The house needed to meet or exceed the economics of the competition with infill housing all while achieving the qualities associated with modern homes and elegant volumes. This is what we came up with.
Exterior photography by Joshua Jay Elliot and interior photography by Chris Hodney